JTPW™ Assessment User Handbook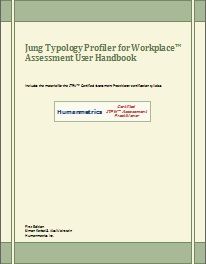 Jung Typology Profiler for Workplace™ (JTPW™) Assessment User Handbook provides comprehensive information on best practices and principles of effective use of the JTPW™ assessment in the workplace, and is a must-have resource for the first time users and those already familiar with personality assessments. The Handbook includes the study material and references as well as practical exercises to help JTPW™ users become proficient with the JTPW™ instrument and the HRPersonality™ assessment administration service.
The Handbook includes the material and references necessary to prepare for taking the JTPW™ assessment administration certification exam. The certification program is a useful supplement for human resources workers, managers, coaches and counsellors, and anyone using or intending to use the JTPW™ instrument and HRPersonality™ assessment administration portal. For more information about certification click here
Main topics:
What is the JTPW™ instrument?

Typical uses of the JTPW™ instrument

The Foundations of JTPW

Jung's theory of psychological types
Personality dimensions evaluated by the JTPW™ instrument. JTPW™ model for the workplace.

The Instrumental Framework of JTPW

Key Behavioural Qualities for the Workplace. JTPW™ Personality Radar™
JTPW™ Questionnaire
Responses reliability indicator
JTPW™ assessment and actual behaviour
JTPW™ Reports (description, interpretation, and best practices for each of the JTPW™
reports)

HRPersonality™ Online Assessment Administration Service

Basic concepts
Common workflow

Use Cases and Best Practices

Pre-employment assessment use cases
Team building, staff and leadership development use cases
Coaching and counselling use cases

Ethical Use
Resources
Click here for table of contents and sample content preview.
The Handbook is provided in electronic format (PDF ebook).